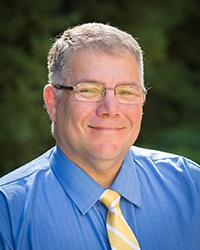 Shaun is originally from New Hampshire and a retired U.S. Navy Hospital Corpsman who served his career with the United States Marine Corps as a Field Medic both at sea and shore. He retired from service after serving in 28 different countries, including serving on the Presidential Helicopter Team (HMX-1) under Presidents George H.W. Bush and Bill Clinton. After leaving the Navy, he worked at a high tech company in Silicon Valley as a member of their emergency medical response team and computer technical development group.
Looking for new challenges, he matriculated at the prestigious Stanford Physician Assistant Program where he served as class president during his continued medical education/training. After graduation, he was hired at the Stanford Cancer Center in Head and Neck surgical oncology and a second job in Family Practice, where he worked for almost 10 years. He now brings these skills to Camino ENT, adding to our general otolaryngology practice and multi-disciplinary cancer group. Shaun works with patients of all ages and has a special interest in helping other veterans recover from cancer and improve their lives. With over 30 years of Medical and a decade of ENT experience, he is an outstanding addition to our team.
Shaun is married to Katy, a labor and delivery nurse and has 4 children. He recently welcomed his first granddaughter and hopes for more in the future. Shaun's interest include camping and backpacking with his family, our local California wine and watching football (NFL and College).