Hearing loss is a growing health concern in San Jose and across the U.S., with an estimated 48 million Americans currently living with impaired hearing. Hearing loss affects people of all ages. Camino ENT is equipped to test hearing at any age. As we get older, hearing loss can lead to social isolation, depression and the inability to detect dangerous situations.
Camino ENT can offer testing, hearing protection and hearing aids to meet your hearing healthcare needs.
What Are the Symptoms of Hearing Loss?
Hearing loss is a progressive condition that worsens over time. Symptoms appear so gradually, you may be completely unaware of your affliction for some time. Even when hearing loss is suspected, it takes an average of seven years for a person to seek medical treatment.
Knowing the signs is helpful in spurring you to take action sooner. Any of the following might indicate hearing loss:
Frequently asking people to repeat what they have said.
Feeling like others mumble when they speak.
Having difficulty following conversations in which background noise is present.
Turning up the volume on the television or radio.
Avoiding social gatherings in noisy places.
Often, a family member or friend will be the first to notice a hearing problem. Since treatment is most effective when begun early, if you think you might be suffering from diminished hearing, do not hesitate to schedule an appointment with a hearing specialist. The sooner, the better!
How Is Hearing Loss Diagnosed?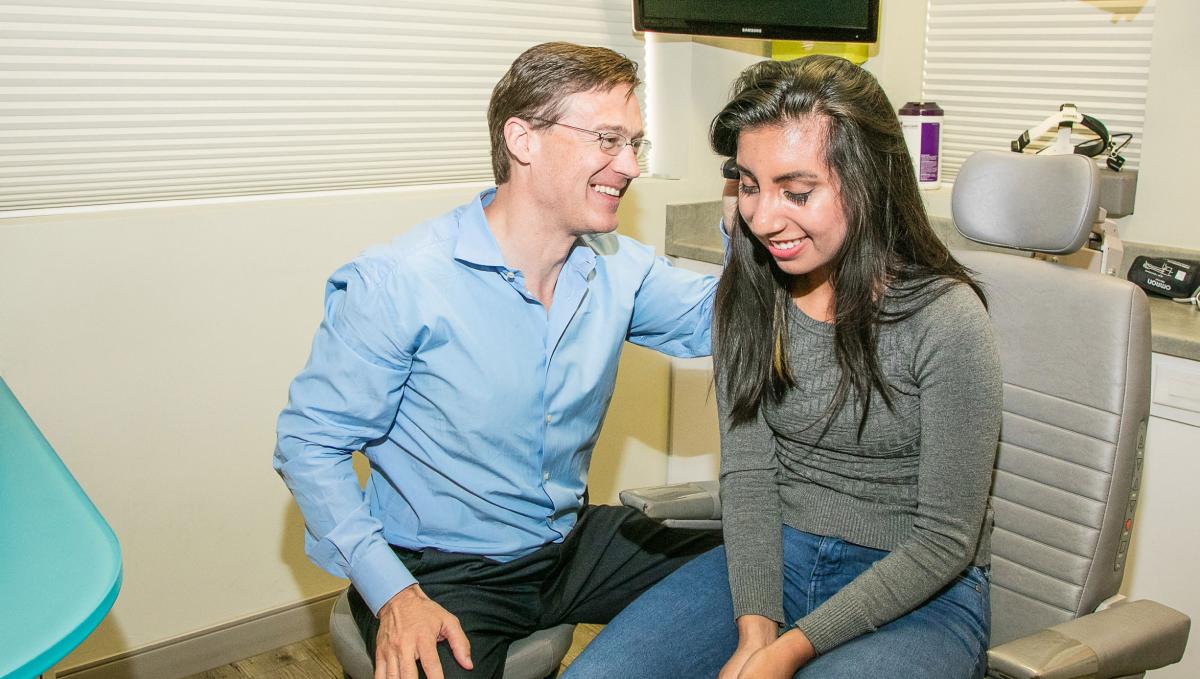 In order to diagnose hearing loss, your doctor will review your medical history, discuss your symptoms, and give you a physical examination followed by a hearing evaluation consisting of a series of audiological tests.
Audiograms
Hearing loss typically develops very gradually and you may not notice symptoms until they're quite advanced. Regular hearing evaluations with a San Jose audiologist are the only way to ensure you're keeping up with your hearing health. These exams allow us to measure your hearing in several ways and chart your hearing abilities on an audiogram for a complete picture of your auditory abilities.
Auditory Brainstem Response
This type of hearing test, often shortened to ABR, reveals important information about how your inner ear and brain pathways are working using electrodes. At Camino ENT, we offer state-of-the-art ABR testing for evaluating hearing in infants, children, adults and seniors.
Tympanograms
Tympanometry is a method of hearing testing that assesses the function of the middle ear by measuring the eardrum's reaction to air pressure. It's helpful for revealing problems associated with the middle ear, including conductive hearing loss. We plot the results from this test on a tympanogram, which will reveal if your auditory system is functioning normally or abnormally.
Acoustic Reflexes
Acoustic reflex tests are another method we use at Camino ENT to assess your hearing ability and middle ear functionality. They measure involuntary muscle contractions from sound exposure in the middle ear. Unusual responses can indicate problems with the ossicles, cochlea, auditory nerve, facial nerve or brainstem.
Otoacoustic Emissions
Often called the OAE, this hearing test is used to assess inner ear function by stimulating the cochlea and causing its tiny hair cells to vibrate in response. This produces a faint sound called an otoacoustic emission, which is measured using a microphone in the ear canal. OAE tests are an excellent indicator of sensorineural hearing loss and can be used for patients of all ages.
What Are the Types of Hearing Loss?
Children are not immune to hearing loss. Early intervention is crucial, as impaired hearing can lead to developmental delays. Poor speech and language skills may affect academic performance and often results in a lack of social and emotional skills, as well. The staff at Camino ENT can help assess your child for hearing loss and provide treatment to help ensure academic and social success. Please consult the California Academy of Audiology's brochure, My Baby Has a Hearing Loss: A Starting Guide for Parents (see the link for a free download below) for helpful information and a list of resources devoted to helping your child learn and grow.
Sudden Hearing Loss
In rare cases, patients develop hearing loss in one or both ears suddenly or over just a few hours or days. Rapid hearing changes are considered a medical emergency and anyone experiencing sudden hearing loss should visit the Camino ENT team of physicians and audiologists for assessment as soon as possible. If you develop sudden hearing loss with or without symptoms of dizziness (vertigo) or ear ringing (tinnitus), rapid and appropriate treatment can make the difference between recovery and permanent ear damage.
SSHL can be caused by a variety of other conditions, including:
Infectious diseases
Trauma, such as a head injury
Abnormal tissue growth
Immunologic diseases such as Coogan's syndrome
Toxic causes, such as snake bites
Ototoxic drugs (drugs that harm the ear)
Circulatory problems
Neurologic causes such as multiple sclerosis
Relation to disorders such as Ménière's disease
Single-Sided Hearing Loss
While symmetric hearing loss in both ears is more common, unilateral (single-sided) hearing loss is a prevalent problem amongst patients across the U.S. Unilateral hearing loss can be caused by many things, including illness, chemotherapy, trauma or surgery complications. Loss of hearing in one ear or asymmetric hearing loss, may represent a more serious problem such as a skull base tumor or acoustic neuroma. Asymmetric loss can also affect your balance and ability to localize sounds. There are often treatments for these conditions. Let the Camino ENT team show you your options.
Although symptoms vary from person to person, the most common symptoms are:
Being unable to locate where a sound is coming from
Difficulty distinguishing between background noise and a target sound such as speech
Inability to hear anything from one direction
SSD can be caused by a variety of other conditions, including:
Physical trauma
Microtia
Diseases such as meningitis, mumps or measles
Sudden deafness
Inner ear infections
Tumors in the ear or the brain
Pressure on the hearing nerve
Although there is no cure for SSD, there are treatments and groundbreaking technologies available to restore the sensation of hearing on the deaf side. The bone-anchored hearing aid is one of the treatment options available.
Inner Ear Perfusions/Injections
Inner-ear perfusions are administered by way of injection and are used for some San Jose patients with Ménière's disease, sudden hearing loss and other sensorineural (inner-ear) disorders. They are safe, simple and affordable and they allow us to administer a substantial dose of medication directly to the affected region.
Call Camino Ear, Nose & Throat Clinic at (408) 227-6300 for more information or to schedule an appointment.